Slow Cooker Sweet Potato & Turkey Chili. Crock Pot Baked Sweet Potatoes Recipe. This is one of my favorite sweet potato recipes – it's so easy! A healthy side dish without the fuss.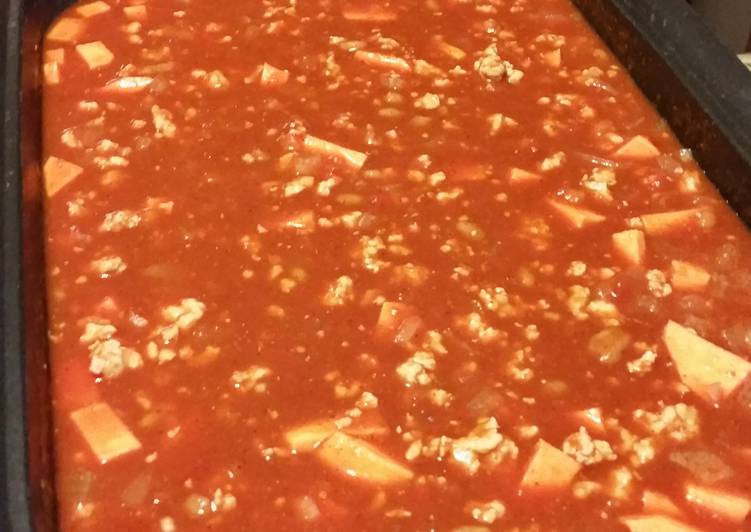 During holiday dinner time, oven space becomes especially precious. You might be juggling turkey and pies, with no room for your favorite sweet potato side dish. Enter your slow cooker and this recipe. You can cook Slow Cooker Sweet Potato & Turkey Chili using 12 ingredients and 2 steps. Here is how you cook that.
Ingredients of Slow Cooker Sweet Potato & Turkey Chili
You need 1 lb of ground turkey.
You need 28 oz of crushed tomato.
It's 3 of garlic cloves.
You need 3 cup of chicken broth.
You need 1 of sweet potato, cubed.
Prepare 15 oz of can baked beans.
It's 2 tbsp of chili powder.
It's 1 tsp of cumin.
Prepare 1 tsp of salt.
It's 1 tsp of pepper.
You need 1/2 tsp of paprika.
You need 1 of onion.
Cooking extra-tender sweet potatoes in the IP is just as easy as using your slow cooker. (And it's faster, too!) Rinse and scrub your sweet potatoes, and place them on top of the metal wire steaming rack that came with your IP. Like this: Add one cup of water to the bottom of the IP, and lock the lid. Slow-Cooker Chicken & Sweet Potato Chili. I'm a college student and one of the things I miss the most at school is my mom's wonderful cooking.
Slow Cooker Sweet Potato & Turkey Chili instructions
Cook meat and onions until no longer pink. Salt and pepper to taste. Add garlic and cook 30 seconds. Place in slow cooker. Add remaining ingredients to slow cooker. Cook on low 5-6 hours or 3-4 hours on high..
Garnish with avocado, tortilla chips, jalapeños, or whatever your heart desires..
This slow cooker recipe is something I can make in my dorm on a busy Sunday. I just throw it all in the slow cooker before I leave for church and come back. This scrumptious bowl of Slow Cooker Sweet Potato Chicken Curry will warm you right up on a cold day. When the temps drop and the air becomes frigid, I crave warm, hearty bowls of soup, stews and slow-cooked meals. Sweet potatoes slow-cooked with butter, sugar, orange juice and milk.