Garlicky Cannellini Beans with Spinach & Tomatoes. Sauteed Spinach with Cannellini Beans and Garlic. Add the beans and toss to coat in garlic and oil. Stir in the tomatoes and bring to a simmer.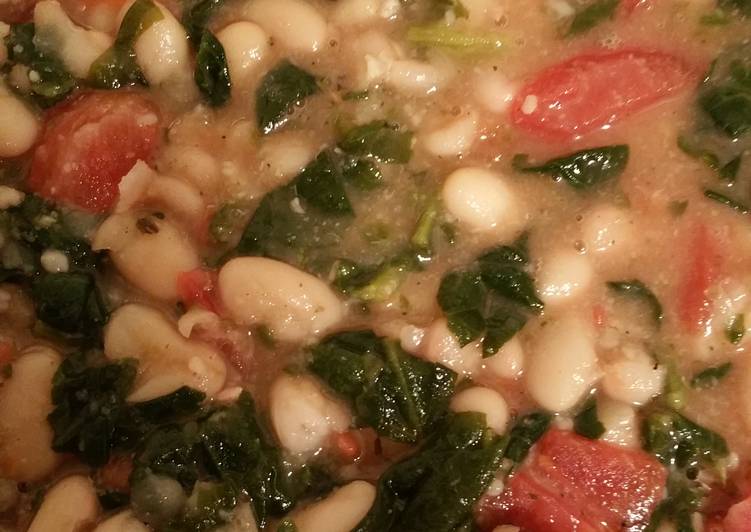 Add all the spinach; Lower heat to med and cover. Add the spinach, garlic, and lemon zest. Mash beans with a fork until the consistency of (very) lumpy mashed potatoes. You can cook Garlicky Cannellini Beans with Spinach & Tomatoes using 10 ingredients and 4 steps. Here is how you cook that.
Ingredients of Garlicky Cannellini Beans with Spinach & Tomatoes
You need 2 can of Cannellini Beans.
It's 1 can of Diced Tomatoes.
It's 1 tbsp of Olive Oil.
You need 1 clove of Garlic.
You need 1/2 tsp of rosemary.
Prepare 1 tsp of oregano.
Prepare 1/4 tsp of black pepper.
Prepare 1/4 cup of white cooking wine.
Prepare 3/4 cup of frozen spinach.
It's 1 cup of water.
Add garlic and stir until you can smell it, maybe a minute or two. It's key to prevent it from browning. Add drained spinach and combine well with onion and garlic. Stir in one can beans with their liquid.
Garlicky Cannellini Beans with Spinach & Tomatoes instructions
Press the garlic clove, and saute for less than a minute in the olive oil to take the harshness away from the garlic..
Rinse the cannellini beans and add to the cooking vessel, along with the water, spinach, rosemary, oregano, black pepper, spinach, & white cooking wine..
Simmer for 30 minutes, stirring occasionally..
Drain the liquid from the diced tomatoes and add them to the mixture. Simmer for 2 additional minutes and serve..
Liquify the rest of the beans with their liquid in a food processor, or mash with a potato masher in a bowl. In a large nonstick skillet, saute garlic in oil until tender. Add onions to pan; saute until crisp-tender. Raise the heat to high, add the chicken broth, and bring to a boil. Place the drained white beans in the bowl of a food processor and pulse a few times to chop.